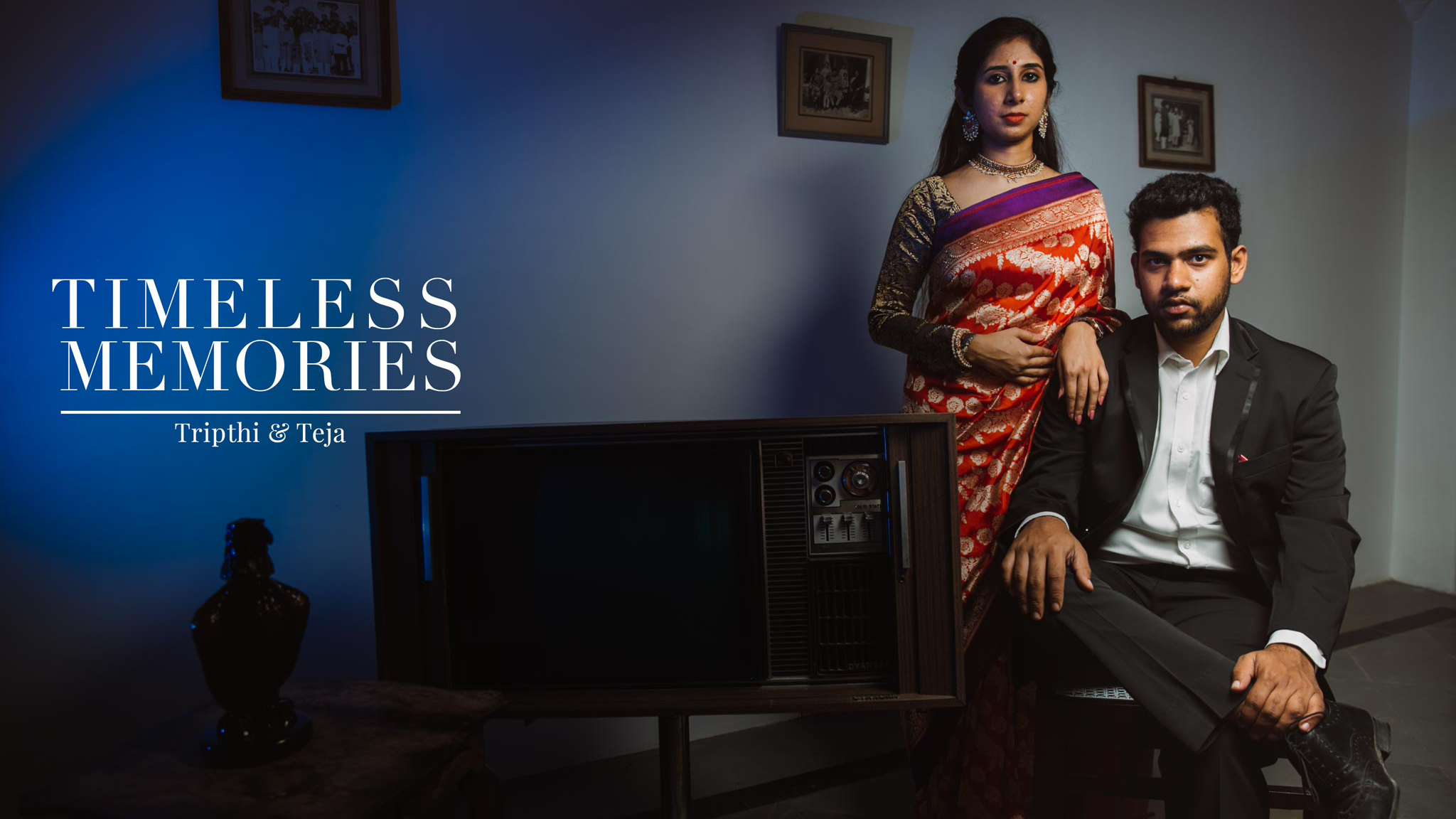 Every shoot we do comes with a story. The recent outdoor shoot of Tripthi & Teja is easily our favorite in the recent times. Set in the ancestral property built in the 1930s, we did not have an idea what was in the bag for us until we were there. In fact, when the couple had reached out to us earlier and discussed the possible destinations, their ancestral house was not on the list initially. Located 160 kms away from Hyderabad, they somehow wanted to have one of their wedding events here but the distance was a challenge. So eventually they opted to have their outdoor shoot there.
It was built by Tripthi's great grandfather and ever since it had remained a very special place to them, she exclaimed. She told about how much it meant to their family. She had also sent pictures of the place to us. To be honest, with the given pictures we were skeptical on how it will all turn around on the shoot day. We were not fully convinced as we weren't able to previsualize it as a shoot destination yet.
On the shoot day, we were driven in a car to the location. It was a long drive from the city, and like the rain appears out of the blue, there came a sight that struck us with awe when we took a right turn. A 20 feet wall stood tall and majestic, guarding the house we were heading to. When we reached there, there was an old man who opened the huge gate and led us into the long horizon that had the house at its end. It felt cinematic. Remember the kind of scene that comes in movies when you enter into a gorgeous property that ushers time and tradition? It was that feeling we were holding on to as our car glided through the narrow road sorrounded by thick trees on both the ends.
When we reached there, it was surreal. The 4-acre property that saw generations thrive there now stood in solitude. But in its silence, we could hear the endless stories it held in its soul. As we entered in, layer after layer, the house kept getting to us and had us in its awe. Tripthi's father was kind enough to accompany us and tell about the good old times that the house had seen over the years. It was fascinating to hear how life so simple yet content in the older times when everyone had the time for family and relationships.
Also, Tripthi had brought along her grandmother's sarees and jewels. In this lit mood, we did a series of portraits for her that evening. Teja reached later in the might. In the morning we captured the couple's portraits. Tripthi had come there after 11 years, and the zeal as felt in every picture we clicked there. What started with anxiety, turned out to be one of the most memorable experiences we got to cherish.
Looking back from here, it all felt like a chain of events that led to the feeling we had during the course. Loving every bit of the moment we savored there, we came back with a bunch of beautiful pictures, and more importantly, a memorable time with a loving family who considered us one amongst them. Take a look at the pictures, and share our reminiscence.
Photographers :

Dilip kumar, Smruthi

Shoot Location :

Hyderabad