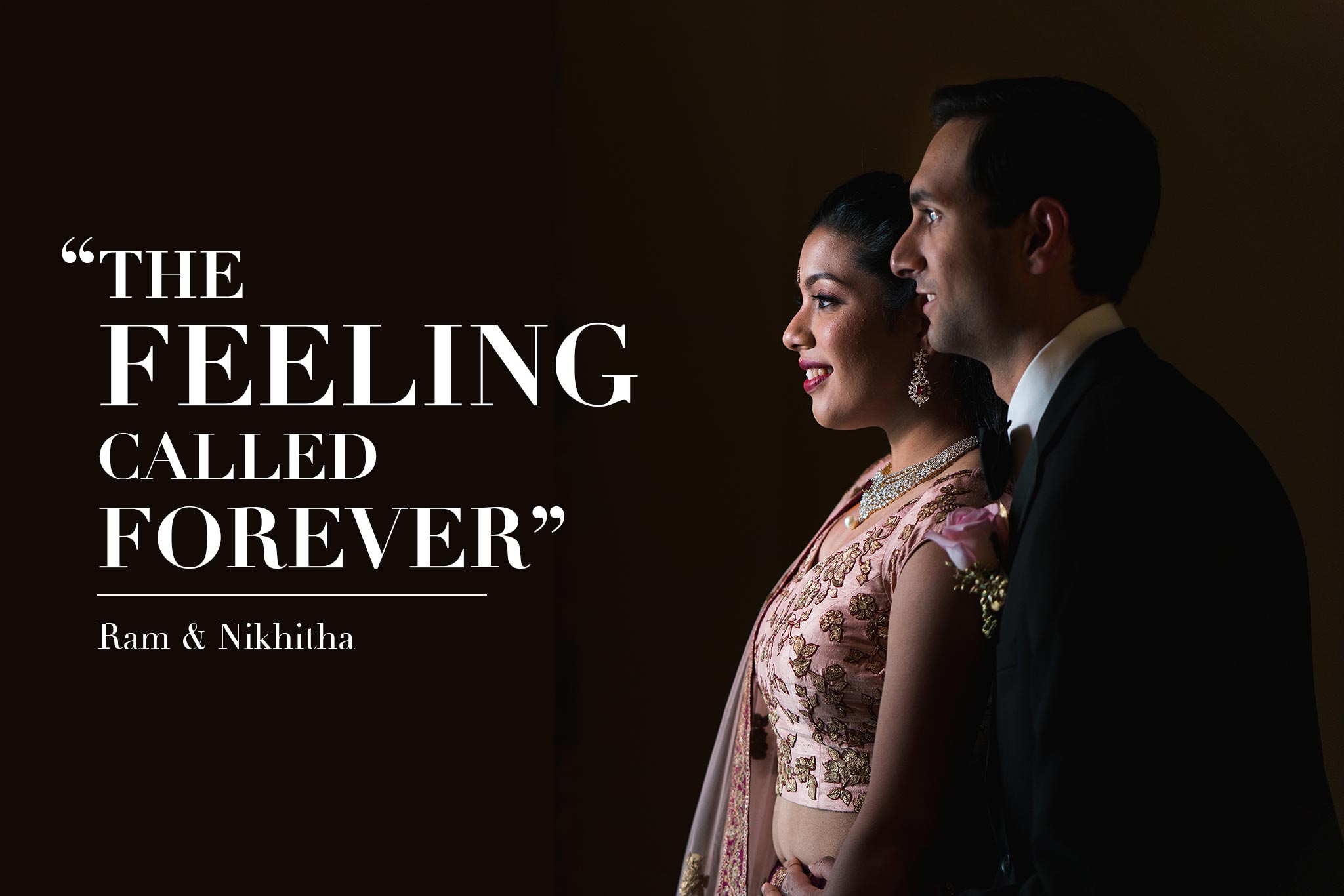 We've heard about Destination weddings. This time around, the wedding was the destination by itself, when Ram & Nikitha decided to tie the knot. That's how special the experience was. I think of three words that'd summarize how I felt when shooting their wedding and I say 'happy, happy, really happy'. This soul-stirring wedding was such a huge ball of happiness to reminisce.
Imagine two individuals crazy in love, complimenting each other and carrying awe all the time. That's Ram & Nikitha with a smile for you, reflecting their state of mind. They were this peaceful couple who knew that they have each other for this lifetime. So naturally, the preparation for the wedding celebrations was a league apart. It was interesting how they had chosen two far away destinations – Mahabalipuram & Jaipur, for their outdoor shoot earlier. They had a personal connect with both the cities, so we scouted up and down to frame some nice memories. Then the engagement was again at Mahabalipuram, with lots of fun planned. The Bride was a classical dancer whereas the groom was a hardcore bhangra dancer. That's quite a fusion as they continued to dance to the tunes of gala set up.
The expectations were naturally high as we flew for the wedding at Florida, and it was nothing short of a spectacle. What lit the mood was not the décor or the widespread venue. Yes, those were there, but the warm vibes of the friends and family overpowered everything else. There was a role for everyone, and each of them took it seriously to see that attention was paid to details. Little things like getting the Palanquin exclusively made from Tamil nadu, planning a song in the background for every moment, etc. made a big difference when the celebration took wings. In a way, the entire wedding was taken up by the friends (and family who fall into the friend's category), and meticulously orchestrated.
Both Ram & Nikitha had lived most of their lives in the US, but it was amazing to see how they stayed rooted to the Indian culture. Throughout their wedding ceremony, it was in Telugu that they gave speeches and made sure every ritual was in place. In fact, after raising the toast when Ram was asked to kiss the bride, he kissed her on her cheek only. The crowd booed and cheered asking for a French kiss, but he nodded them off with a sheepish smile. Indian-ish indeed, ain't it?
To me personally, I felt so gifted to have been a part of this wonderful wedding. I felt belonged. It was like everything else had converged towards this moment of realization. End of the day, I come back with not just pictures but a whole lot of memories, two fantastic friends, and a family who taught me the significance of 'giving' more to live a happy and satisfied life.
For sure, this marriage was made in heaven.
Photographer :

Amar Ramesh

Venue :

Florida, USA